Lo strumento di autoefficacia veluset per i pazienti con ulcera venosa delle gambe: adattamento culturale italiano e validazione psicometrica utilizzando un approccio bayesiano – Dott. Matteo Martinato, Prof.ssa Rosanna Irene Comoretto, Prof.ssa Danila Azzolina, Prof. Dario Gregori
Il Dott. Matteo Martinato ha presentato al XVVII Convegno AIE, uno studio in collaborazione con  L'università degli studi di Torino e L'università degli studi di Ferrara dal titolo: "Lo strumento di autoefficacia veluset per i pazienti con ulcera venosa delle gambe: adattamento culturale italiano e validazione psicometrica utilizzando un approccio bayesiano"
Ogni anno, le ulcere venose delle gambe (VLU) colpiscono circa il 3% degli anziani oltre gli 80 anni con un alto tasso di recidiva. Se non trattate correttamente, le ulcere possono portare a gravi conseguenze, compromettendo la funzione degli arti e la qualità della vita. Il VeLUSET questionnaire (Venous Leg Ulcer Self Efficacy Tool) è l'unico questionario disponibile che valuta le capacità di autocura del paziente per prevenire il ripetersi dell'ulcera.
Lo scopo di questo studio è stato l'adattamento culturale e la validazione psicometrica di questo strumento nella popolazione italiana attraverso un approccio bayesiano.
Dopo il processo di traduzione, lo strumento VeLUSET è stato somministrato a 65 pazienti con VLU. Sono stati individuati alcuni item che saturano scarsamente le dimensioni latenti, principalmente nei domini relativi alle attività quotidiane di auto-cura e allo sviluppo delle competenze.
Questi risultati preliminari mostrano che la versione italiana di VeLUSET ha caratteristiche psicometriche accettabili. Tuttavia, una nuova versione del questionario potrebbe essere proposta per accorciare i domini con minore affidabilità, al fine di consentire al questionario di cogliere più correttamente il fenomeno nella popolazione italiana di pazienti con VLU. Inoltre, considerando l'età avanzata della coorte di studio, questa soluzione potrebbe ridurre il carico di lavoro dell'intervistato.
Allo studio hanno contribuito il Prof. Dario Gregori, la Prof.ssa Danila Azzolina ed infine la Prof.ssa Rosanna Irene Comoretto.
---
Dr. Matteo Martinato presented at the XVVII Conference AIE, a study in collaboration with the University of Turin and the University of Ferrara entitled: "The veluset self-efficacy tool for patients with venous leg ulcer: Italian cultural adaptation and psychometric validation using a Bayesian approach".
Each year, venous leg ulcers (VLU) affect about 3% of the elderly over the age of 80 with a high rate of recurrence. If not treated properly, ulcers can lead to serious consequences, affecting the function of the limbs and quality of life. The VeLUSET questionnaire (Venous Leg Ulcer Self Efficacy Tool) is the only available questionnaire that evaluates the patient's self-healing abilities to prevent ulcer recurrence.
The aim of this study was the cultural adaptation and the psychometric validation of this tool in the Italian population through a Bayesian approach.
After the translation process, the VeLUSET instrument was administered to 65 patients with VLU. Some items have been identified that saturate latent dimensions poorly, mainly in domains related to daily self-care activities and skills development.
These preliminary results show that the Italian version of VeLUSET has acceptable psychometric characteristics. However, a new version of the questionnaire could be proposed to shorten domains with less reliability, in order to allow the questionnaire to better grasp the phenomenon in the Italian population of patients with VLU. Moreover, considering the advanced age of the study cohort, this solution could reduce the interviewee's workload.
Prof. Dario Gregori, Prof.ssa Danila Azzolina and Prof.ssa Rosanna Irene Comoretto contributed to the study.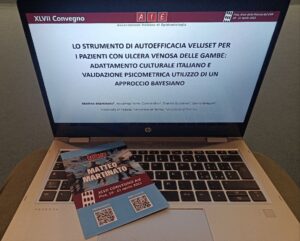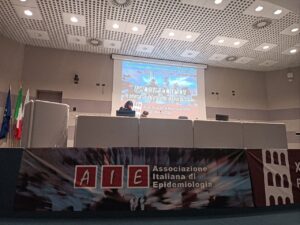 ---

---